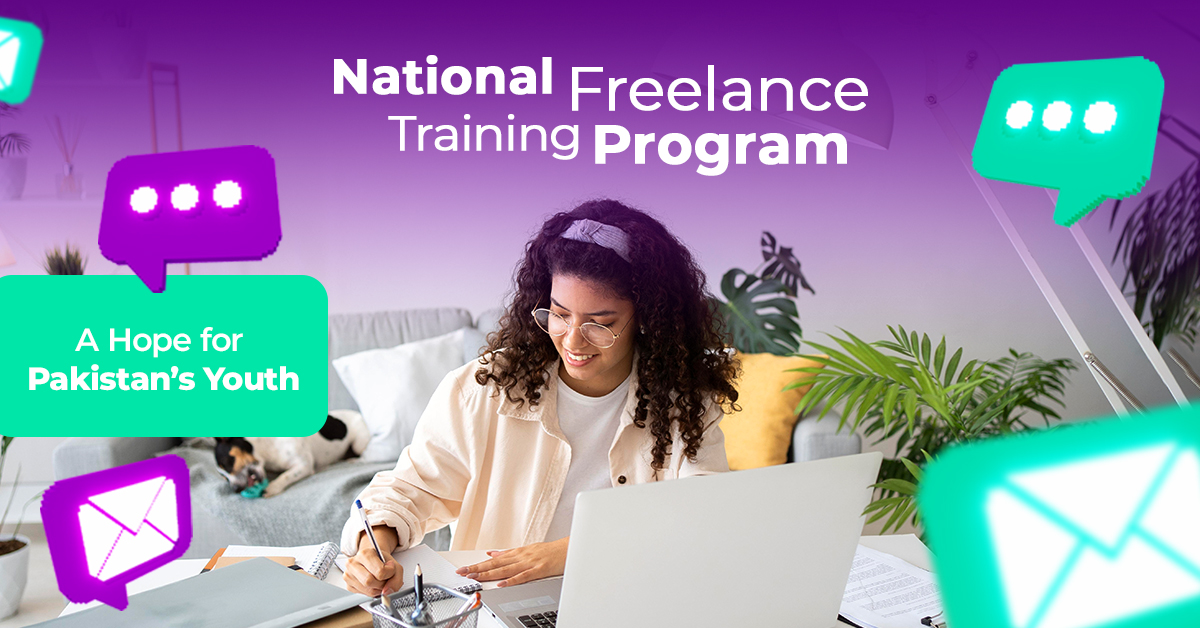 National Freelance Training Program: A Hope for Pakistan's Youth
Over time, the term "freelance" has increasingly gained prominence. In the digital age, freelancing has become a realistic employment option since it gives people the freedom to work independently and remotely. Freelancing offers a viable option in Pakistan, where the issue of youth unemployment is still a critical one. In this blog, Creativibes will be highlighting the true meaning of freelancing, its potential to help Pakistan's youth, and most importantly – the role of National Freelance Training Program (NFTP) to provide online employment opportunities for young people throughout Pakistan.
What is Freelancing?
Freelancing is the act of providing services or abilities on a project-by-project basis without a long-term commitment to an employer. Through online platforms, it enables people to work independently and sell their skills to a clientele around the world.
Furthermore, the range of freelance work is broad and includes a variety of industries, including graphic design, content creation, programming, digital marketing, and more.
What is the National Freelance Training Program (NFTP)?
The Ministry of Information Technology and Telecommunication (MoITT) established the National Freelance Training Program as a training initiative. To help prospective freelancers advance their careers as independent freelancers, the program offers modern and extensive training.
By giving them a strong platform for both personal and professional growth, the project seeks to educate and empower young people. For young people all around Pakistan, this freelance program will open up online employment prospects, allowing them to pursue a successful freelance career there.
Furthermore, the National Freelance Training Program (NFTP) will train participants in highly sought-after digital skills that will enable them to earn a reasonable income through a variety of freelancing platforms.
It is pertinent to state that more than 11,000 students have now completed their course, and they are making more than $2.25 million in foreign currency as a result.
Becoming A Freelancer Under the National Freelance Training Program (NFTP)
All of Pakistan's provinces are eligible to register in this program of study to acquire cutting-edge training for working independently. This program seeks to provide 22,000+ people with the resources they need to become self-sufficient through its 20 innovative centres.
The government is offering substantial fee discounts of between 70% and 100%.
Admission requirements include possession of a National Identity Card (CNIC), residence in the required province, and completion of 14 years of formal education. It is pertinent to state that 18 to 40 years old is the entering age range.
A network of 20 centres has been carefully established countrywide to streamline the training process with the goal of empowering unemployed young people with critical abilities in Technical Content Marketing, Advertising, and Creative Designing. This thorough program lasts for more than three months and offers several training opportunities.
Participants will receive training completion certificates after successfully fulfilling the program's criteria. These certificates will be given following a comprehensive and official evaluation of their performance and overall growth.
Evaluations will consider students' academic success, attendance history, and any tasks that could be given over the course. The training lasts for three months, giving participants plenty of time to understand and put their abilities to use.
Steps Required to Apply for National Freelance Training Program (NFTP)
There are a few easy steps you need to follow in order to apply for the National Freelance Training Program (NFTP):
Step:1
Go to the new registration tab on the following website: www.nftp.pitb.gov.pk, fill out the online application form there, and submit it. Your contact information, a valid CNIC, your city, and your selected NFTP Centre will be requested.
Step:2 
If you have completed 14 years of schooling (or more), select your degree and institution of study from the drop-down list, and then click the next button.
Step:3
Choose your area of expertise (technical, non-technical, or creative design).
Step:4
Your login ID and password will be issued to you via email and SMS following a successful registration. Enter that password to access the online test, complete it, and submit it.
Step: 5
If the applicant is shortlisted, an email or SMS requesting online document submission on the portal within the timeframe specified will be issued to them.
Step: 6
After receiving the documents, the NFTP team will carefully review them before sending emails or texts to confirmed students instructing them to pay their fees at the chosen partner institute, submitting scanned copies of their challans.
The Bottom Line
Given the potential of freelancing, the NFTP may play a significant role in assisting young people who are unemployed by offering training programs for freelancers.
The goal of NFTP is to assist people in developing the necessary abilities, improving their familiarity with online resources, and giving them fundamental entrepreneurial skills.
In today's era, freelancing is widely accepted as a legitimate career option which greatly lowers the unemployment rate by providing such training programs. These programs can also encourage youth innovation, creativity, and independence, which will help the digital ecosystem thrive.